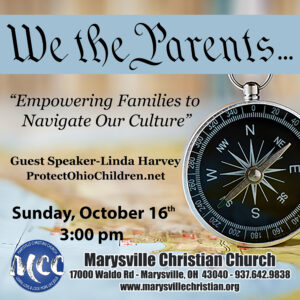 Join us Sunday, October 16 at 3:00pm
"We The Parents"
with special guest speaker Linda Harvey
empowering families to navigate our current culture
__________________________________________________________________
Find out more at the
and the
__________________________________________
watch a short clip of Linda Harvey
speaking to the Ohio State Board of Education
__________________________________________
The media ministry of Linda Harvey is an outgrowth of her Christian faith and a successful career in marketing and public relations. As a former advertising executive, she managed multi-million dollar advertising campaigns, primarily in the health care field. She was formerly Director of Marketing Communications at Ohio State University Hospitals.
In 1995, she founded Mission America, a Christian pro-family organization tracking current cultural issues. The organization's flagship website is www.missionamerica.com, with articles on current social issues, weekly e-newsletters sent to a national audience and an Ohio-wide radio show on the Salem Network station in Columbus, OH, 880 AM WRFD (www.wrfd.com ). She is also a regular contributor to conservative news sites and is frequently interviewed by conservative, Christian and mainstream media outlets. Linda is a frequent columnist for the news site www.WND.com and the author of two Christian books, Maybe He's Not Gay: Another View on Homosexuality and Not My Child: Contemporary Paganism and the New Spirituality.
In addition, Linda is a popular conference speaker and was a media representative at a United Nations conference. She has also spoken to many Tea Party groups and has testified on social issues before state legislative committees. She serves on the National Pro-Family Forum and the Ohio Pro-Family Forum. She has also served as an abstinence education grant reviewer at the Ohio Department of Health.
Linda Harvey holds a B.A. in English from Miami University, Oxford, Ohio, and has done graduate work at Miami, Ohio State University, and Trinity Lutheran Seminary. She is a wife, mother and grandmother and lives in Columbus, Ohio.